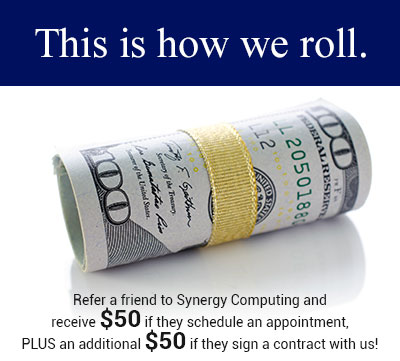 At Synergy Computing, we believe referrals are the greatest form of flattery. As one of our valued customers, you already know the benefits of our services. By recommending your contacts, you can help them enjoy worry-free IT and reap some great rewards for yourself.
Refer a Friend or Business Connection … Make Up to $100 Bucks!
Want to earn cash? Become a Synergy Computing Partner. Refer new clients to us and earn $50 cash for each qualified referral that schedules an appointment with us… and an additional $50 if your referral signs a contract with us!
How the Referral Program Works
Just submit qualified referrals using our referral form. For each referral you send us, we'll email you a confirmation that we have received the information. Then, just sit back and wait for a check in the mail. It's that easy.
What is a Qualified Referral?
A qualified referral is a lead that is actively seeking IT support. Minimum requirements are a single server and 10 workstations. They need to be a Santa Barbara area business interested in a free network assessment and proposal for IT services. You don't have to figure out what they need, just send us the contact information and we'll do the rest.
How Do You Get Paid?
If we are able to meet with your referral and submit a proposal, you get $50 within 15 days. It doesn't matter whether they turn into a client or not. And you can submit as many referrals as you'd like. But that's just the beginning. When we close the deal and your referral becomes a client by signing an agreement, we'll pay you an additional $50!
Don't wait another day. Start earning extra cash today! This will be the easiest cash you've ever earned. We promise to treat your referrals with kid gloves.
*Disclosure: $50 paid after the client has been active for 30 days and has paid their first invoice.
Start earning cash today by sharing your connections that need IT support!