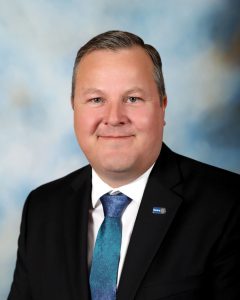 Scott M. Phillips acquired Synergy Computing, Inc. in 2000 with a vision of giving small and medium-sized business owners peace of mind while eliminating their technology headaches so they can focus on running their business and making more money. Scott is actively involved in Synergy Computing's client relationships, IT project rollouts, and technical support services. He has over 20 years of IT management experience and enjoys working with clients across many different industries.
Scott's passion for technology started back in his junior high school days when he met the new kid at school whose father worked for IBM. His new friend introduced him to the personal computer (PC) and they spent much of their time together tinkering with computers and writing computer programs. Scott was able to talk his dad into buying him his first computer, which was a Commodore 64.
Prior to acquiring Synergy Computing, at the age of 15, Scott started a computer support company while still attending San Marcos High School, grew the company to support hundreds of home users, eventually sold the company, and went to work for a local British car parts mail-order company. There he oversaw the daily IT Operations of the company. During this time, he was crucial in the company's migration project to convert the company over from a green-screen dumb-terminal environment to an environment with 5 Microsoft Windows Servers and over 80 PC workstations in three locations across the US. The successful completion of this project brought the Internet and email to every employee along with a new CRM and order entry system.
Scott is the author of the book "Hassle-Free Computer Support: A Small Business Owner's Guide For Finding A Professional, Competent, Honest, Considerate, On-Time, Fairly Priced and Dependable Computer Consultant".
Scott is also a Certified HIPAA Security Professional (CHSP) and Member of FBI Infragard.
Scott was born and raised in Santa Barbara, California and when he's not working, he enjoys spending time with his dog, hobbies such as Amateur (Ham) Radio and photography, many outdoor activities, and giving back to the local and international community through his involvement with the Rotary Club of Goleta Noontime, where he has been a member since 2013 and served as club President in 2016-17. He is a member of the Paul Harris Society, is a Multiple Paul Harris Fellow (PHF), Major Donor to The Rotary Foundation, and Bequest Society Member. Scott served as Rotary District 5240 Communications Director in 2015-16 and was awarded "The Quiet Rotarian Award". He has also served as Assistant Governor for the Rotary clubs in Goleta, Santa Barbara, Montecito, and Carpinteria area in 2017-18, Rotary International District 5240 Chief Operating Officer in 2018-19, Rotary District 5240 Administrator in 2019-20 and currently serves as Rotary Zone 26 Assistant Public Image Coordinator (ARPIC), PRLS Director and member of the Board of Directors for the Rotary District 5240 Charitable Foundation. In 2022-23, Scott will serve as Rotary District 5240 Governor. He has also served on several local non-profit boards over the past 20 years.