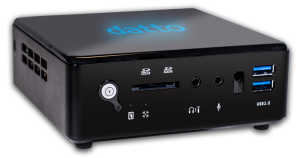 Datto SIRIS 3 is the first complete data protection and business continuity solution delivered on one platform. SIRIS 3 can be deployed on a purpose built appliance, in a virtualized environment, or imaged for use on existing hardware. Business data can be backed up to a local device near real time and synchronized with the 200+ PB Datto Cloud, which provides geo-redundancy, data integrity and location-specific data sovereignty.
SIRIS 3 comes complete with Instant Virtuzliation technology that enables whole infrastructure to be spun up in a matter of seconds, either on a local device on in the cloud. As such, SIRIS 3 significantly reduces RPO (Recovery Point Objective) and RTO (Recovery Time Objective) for small and mid-sized businesses. SIRIS 3 highlights include agentless backup, endpoint backup, screenshot verification, NAS & iSCSI file share abilities, and a host of restore capabilities, including file restore, bare metal, SAN-based & cloud bridged. With SIRIS 3, business data is always secure, instantly recoverable and easily accessible, be it on-site, in transit, or in the cloud.
The Datto SIRIS 3 X1 is the first complete data protection and business continuity platform delivered as an all-flash device. Intended and licensed to protect a single server, the SIRIS 3 X1 is a full-featured Datto SIRIS 3 appliance. It comes in a very powerful yet small form factor and supports all the advanced SIRIS 3 functionality. The X1, with 1TB solid state drive and 16 gigabytes of RAM, can perform local virtualization directly on the appliance. And the X1 incorporates the new NAS shares, iSCSI Boot, Linux and Mac agent support, and even the Infinite Cloud Retention long term storage offering.