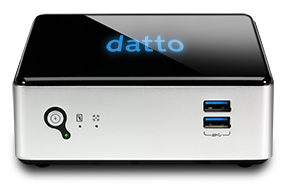 Datto ALTO 2 is the only hybrid cloud solution that keeps your small business up and running through outages, data loss and disasters. This business continuity solution is build specifically for small businesses, breaking down the barrier of entry. You get a compact and powerful appliance that takes snapshots of your servers and workstations, then replicates them to the ultra-secure Datto Cloud, all for a minimal cost.
ALTO 2 uses image-based backup technology, so it takes full images of machines instead of merely backing up files and folders. With this technology you are able to restore systems and entire networks at a moment's notice.
Most small businesses are using at least some type of solution to avoid data loss, but very few are protecting their business from downtime, which can be even more devastating. ALTO 2 will protect your business from data loss and ensure that in the event of a disaster, you are fully operational with little to no downtime.
ALTO 2 packs 1TB of local storage in a slim mini-PC unit that measures only 5 inches square and 1.7 inches tall. Off-site storage is flexible, with 150GB, 250GB, 500GB, and 1TB plans, with the option for unlimited cloud storage.